Tim O'Dell & Tatsu Aoki
ANCIENT PINES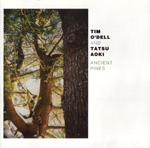 Southport Records
Tim O'Dell – alto and soprano saxophones
Tatsu Aoki – bass
Ryan Shultz – bass trumpet on "Ancient Pines Suite"
Playlist
Textual
The Drive
Toddler
Anticipation
Rise & Fall
Ancient Pines Suite
     I. Fanfare/Squirrels
     II. Old Growth
     III. Majestic Perspectives
Come Here
Opinions
You Can't Find Me
Aphelion
Sneaky
ANCIENT PINES LINER NOTES by SCOTT YANOW
"Tim O'Dell's set of duets with bassist Tatsu Aoki, assisted by bass trumpeter Ryan Schultz on the "Ancient Pines Suite," is about spontaneous creativity, the contrast between space and sound, and purposeful improvising.  If all of that sounds a bit dry, the music proves to be anything but.  The interaction between O'Dell and Aoki is full of color and excitement, melodies and rhythms are part of the music rather than being discarded as too old hat, and there is enough intensity in the playing to set the "ancient pines" on fire.
Tim O'Dell, whose alto and soprano playing at times recall the relaxed but explorative improvising of Lee Konitz and Steve Lacy while sounding quite individual, was born in Oregon.  "My Dad used to play a lot of Copland, Beethoven, big band and Herb Alpert records.  I dedicate this album to Dad's musical support because he and my mother always supported my decision to play music, and they even encouraged me to practice."
O'Dell first began on the alto sax, adding the soprano in high school.  "I switched to tenor for awhile in middle school.  In high school I went to a music camp at the University of Iowa and had the opportunity to be around other serious young musicians who were into jazz.  That's when I realized that that's what I wanted to do with my life.  In college when I was working towards my saxophone performance degree, I found that it was better for me to be on alto.  I worked on the alto so hard for all of those concertos, sonatas and etudes that I became an alto player."
O'Dell has earned a Doctor of Musical Arts degree in Saxophone from the University of Iowa and a Master of Music degree in Jazz Studies from the New England Conservatory.  During 1993-2001 he was the Director of Jazz Studies and Professor of Saxophone at Augustana College in Rock Island, Illinois.  Living just west of Chicago gave him an opportunity to play with other musicians in the Chicago jazz scene and through the years he has performed with Danilo Perez, Tim Hagans, George Garzone, Louie Bellson, Gunther Schuller, Willie Pickens, Muhal Richard Abrams and George Russell among many others.
Among Tim O'Dell's earlier recordings are Windy Christmas for the Chicago IEL label, Elijah Levi's Southport CD Finally Elijah, the Red Fire Ant Trio's Live In Iowa City for Toe Records and his Southport debut as a leader Before My Life.  The latter features O'Dell heading a sextet that includes bassist Tatsu Aoki, bass trumpeter Ryan Schultz, guitarist Steve Grismore and both David Pavkovic and Jim Dreier on drums.
In 2001 Tim O'Dell moved to Maine where he is Saxophone/Jazz Studies instructor at the University of Southern Maine.  "I think it's very important for students to develop their own voice in their sound and the way that they approach chord changes and create.  The main purpose of playing jazz is to create one's individuality and that is the general lesson that I try most to get across to students."
So much for history.  How did Ancient Pines come about and what inspired Tim O'Dell to strip his group down to a duo/trio?  "Tatsu Aoki and I have played together since 1993, including in the Red Fire Ant Trio with drummer David Pavkovic, and he's a mentor to me in many ways.  I always admired his looseness, creativity and fearlessness, coupled with his amazing time and his love for the role of the bass.  He plays the bass like a bass, not like a horn.  He also takes his time in the music like Lester Young.  We had played a duet on my Before My Life CD that worked very well and I thought that this would be an interesting project.  I'm really pleased with how it came out and how comfortable it felt."
Tatsu Aoki, long a familiar name in the Southport catalog, has appeared on over 70 albums as a sideman not counting the 30 that he has led in a wide variety of settings, from solo bass performances to big bands and all types of challenging groups.  In addition, he is the founder and artistic director of the Chicago Asian American Jazz Festival, the president of Asian Improv Records and has produced many recordings.
Two intriguing facts about the Ancient Pines project are surprising: Much of the music, though sounding composed, was spontaneously improvised, and the entire set was recorded in one day, coming together very fast.
The program starts off with "Textual."  O'Dell's unaccompanied alto plays the theme before Aoki's bowed bass echoes his thoughts.  Their interplay, even as they wander away from the melody, stays telepathic and retains the mood of the piece through the final long note.
"The Drive" starts with some swinging solo alto, which by the third minute is accompanied by a percussive one-note pattern from Tatsu.  O'Dell is musically naked throughout, thinking aloud and building his ideas from fresh new melodies.  There is nowhere (and no need) from him to hide.  This thoughtful piece is followed by the 26 seconds of "The Toddler."  The latter romp is kept purposefully very short and manic so as to demonstrate a young child's very brief attention span, spending 20 seconds on one activity before suddenly deciding to do something else.
"Anticipation," like "The Drive," is a free improvisation that sounds so logical that one would guess that it was composed beforehand.  O'Dell's lyrical ideas and Aoki's willingness to build on the saxophonist's thoughts make this a very unified and logical performance, one in which the music is far from being merely random sounds.  O'Dell plays with the passion of an Eric Dolphy during the latter part of this piece.  He switches to soprano for the haunting "Rise & Fall" which is very much a conversation with the bassist and would probably work equally as well if played by a much larger ensemble.
Ryan Schultz's bass trumpet is added to the group for the three-part "Ancient Pines Suite."  "I've known Ryan for four or five years.  He is Mr. Versatile, someone who can swing hard, sightread, is very sensitive and can improvise in any context.  He has a unique voice, even beyond the fact that he's playing the bass trumpet."
Inspired by a pair of huge and ancient trees that are in O'Dell's backyard in Maine, the "Ancient Pines Suite" begins with "Fanfare/Squirrels" which has a hot free bop solo for bass trumpet and some exciting interaction with the soprano over Aoki's walking bass.  "Old Growth" is a brooding ballad that displays Aoki's giant tone on the bass with occasional menacing long tones from the horns. The final section, "Majestic Perspectives," has the two horns playing independent of each other before joining in on a theme and some improvised counterpoint over Aoki's powerful bass, bringing the suite to a logical conclusion.
"Come Here" is a free improvisation that spontaneously developed a plot.  It is as if the bass is telling the soprano sax to "come here" (like a mother calling her son home for supper).   O'Dell purposely circles Aoki without hooking up with him, resisting his call until finally deciding to join together at the end.
"Opinions" was originally a trombone duet.  O'Dell plays the upper part at first while discarding the bass trombone section and instead having Tatsu improvise a difficult and repetitive pattern.  The soprano-saxophonist was clearly quite inspired playing over the pattern which gives him infinite freedom to express himself.
"You Can't Find Me," a free improvisation inspired by the thought of the saxophonist playing "hide and seek" with his children, manages to be both dramatic and playful at the same time.
"Aphelion" has the duo expanding as Tatsu is heard on two overdubbed basses while O'Dell's written alto part is joined by his improvised ideas on soprano, creating a desperately lonely mood.  In contrast, "Sneaky" is a swinging soprano-bass duet that wraps up the stimulating set with exhilarating joy
Tim O'Dell is enthusiastic about the future.  "I have at least six CDs in line that I want to record.  I plan to keep on writing and playing for several core ensembles.  By continually putting out quality records with different people, trying to break new ground, things will start to increase in visibility.  My goal is to get out all of the music that I hear inside myself."
Considering the high quality of the music on Ancient Pines, one looks forward with great anticipation to Tim O'Dell's future projects."
Scott Yanow,
Author of nine books on jazz
including Jazz On Film, Trumpet Kings and Bebop
For booking information and lessons (for all ages and abilities) in saxophone, piano, flute, composition and improvisation: