Tim O'Dell
 DREAMS OF PANGAEA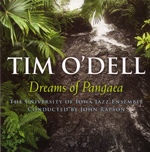 Southport Records
Johnson County Landmark, John Rapson, Director w/ Special Guests:
Steve Grismore – guitar
Brent Sandy – trumpet
James Dreier – percussion
Bob Thompson – saxophones
Playlist
Mirage
Adverse Side Effects
Dreams of Pangaea
STRATA Suite
     I. Great Plains
     II. Extended Steps
     III. Cirrus
Retrospection
Mr. Id
Point of Departure
Epilogue Groove
Dreams of Pangaea Liner Notes by Josef Woodard
Pursuing a Broader, Bigger Concept
Contrary to its humble profile by the standards of more mass public consumables, the culture of jazz big band music is alive, well and evolving into a fascinating future present. One strong contender and champion in the contemporary big band field is composer-saxophonist Tim O'Dell, whose new collection of music beautifully supports the notion that big band music can be at once rooted in a grand venerable tradition while pushing forward and laterally into new ideas and sub-genre directions.
On Dreams of Pangaea, his latest of several projects for the Southport label, O'Dell presents his big band persona in expansive and impressionistic ways. Providing the impressive performance honors is the ensemble known as Johnson County Landmark, a band consisting of students and faculty based at the University of Iowa and directed by trombonist-bandleader-professor John Rapson. Rapson himself is a musician, like O'Dell, with a personal commitment to big band thinking outside the old school box (yet also intent on paying respects to various "old schools").
This project involved a homecoming of sorts. O'Dell earned his Bachelor's and Doctoral degrees at the University of Iowa, and his Master's in Jazz at the New England Conservatory. Oregon-born, Chicago-raised and now Maine-based, O'Dell boasts an impressive and mature voice as a composer and arranger, whose artistic language is worldly rather than region-specific. The range of stylistic references and artistic connections touched on here spans American and European modes of musical thought. His writing can be reminiscent of Gil Evans, Maria Schneider, and of state-sponsored big bands across the Atlantic, but with plenty of O'Dell's own signature touches along the way.
Opening the album gently and hypnotically, "Mirage" embodies its title with a sinuous bass ostinato on bass clarinet and then acoustic bass, with elliptical swatches of horn writing and the quixotic trumpet soloing of Brent Sandy calling to mind the old Miles Davis/Gil Evans rapport, revisited.
"Adverse Side Effects" pits its myriad variations and detours atop a deceptively simple two-chord pattern, with fine solos by Bob Thompson on soprano sax, and drummer Rob Baner. Latin pulses ruggedly pulse in the driving title track, "Dreams of Pangaea," in the middle of which the free-leaning solo passages suggest Sun Ra's aesthetics more than any standard brand big band model.
O'Dell can align his compositional thinking to large ideas and structures, as with the interlocking, introspective "Retrospection," with trumpet sonorities from Brian Smith playing a key role through the probing, sometimes melancholic maze of harmonic motion.
In the three-part "Strata Suite," the composer balances ideas with a mobile-like equilibrium: some meta-identity emerges between the beguiling yet brief "Cirrus," with its angular arpeggio latticework beneath Steve Grismore's searing electric guitar solo, the atmospheric spirit of "Great Plains" and the simmering fieriness of "Extended Steps."
Balladic grace enters the picture with "Point of Departure," with Bob Thompson's alto sax keening and crooning, with film noir-ish emotion but no easy sentimentality. Closing the program is "Epilogue Groove," underscore groove in multiple forms and transitional gray zones between percussive propulsions. One of the connective pieces is a loop-aided guitar solo by Grismore before intricate clapping patterns, circular motives and exploratory sonorities fold into the score's multi-layered plan. Gradually, but surely, intensity and intricacy builds and then dissipates into some ambiguous musical sunset, while also making a long-arcing allusion to the themes presented in the opening "Mirage."
With this body of music, O'Dell's music paints pictures and evokes moods, while also deftly and persuasively expanding the vocabulary for the medium.
— Josef Woodard, September 10, 2008
(Josef Woodard is a freelance writer and musician. A long-standing contributor to Down Beat, Jazz Times, Entertainment Weekly, the Los Angeles Times, and other publications and projects, he is currently working on a biography of Charles Lloyd.)
For booking information and lessons (for all ages and abilities) in saxophone, piano, flute, composition and improvisation: